When we talk about Google ads, it's completely connected to the internet and digital revolution. Here in this article, we have covered from the birth of the Internet to the matured usage of the Internet till today in 2023 to give a 360° comprehensive view and decode Google Ads from its core. So, let's get started.
Birth of the Internet: 1960s-1980s
The concept of the internet began in the 1960s with the development of ARPANET (The first public packet-switched computer network only for academic and research purposes) by the U.S. Department of Defense.
Internet Open for Public Use: 1990s
The World Wide Web (WWW) opened to the public on 6th August 1991 and created the first webpage by Tim Berners-Lee (A English computer scientist best known as the inventor of the World Wide Web, the HTML markup language, the URL system, and HTTP.)
Birth Of Google: 4 September 1998
Google was founded by American computer scientists Larry Page and Sergey Brin while they were PhD students at Stanford University in California. Google was founded to organize the world's information make it universally accessible and get people connected via browsing.
Let's have a look at the growth of Google:
In 1998 Google handled 10,000 search queries per day and in 2023 it is handling approximately 99,000 search queries every second, resulting in about 8.5 billion searches per day.
In 2023 Google had a massive 4.3 billion users worldwide. Based on 4.72 billion internet users worldwide, Google owned a market share of 92.24%.
Rise of the Digital Era:
With the rise of smart devices like smartphones and computer with Google, Information from worldwide are accessible even to the common person which brings the biggest transformation in people's purchase behavior and the way businesses find their customers.
Eg:
In 2023, from ordering delicious morning breakfast to finding the right construction company to build a home, people are using Google. On the other side, businesses that try to find new customers utilize the Google search engine by creating a website to display their products & services to potential buyers who search for them.
The Birth & Rise Of Google Ads Platform:
Before Google ads arrived, businesses had only the option to rank their website organically and find customers when they search for a particular service or product. The issue businesses face is Google algorithms delaying the raking process to more than a year.
New and small businesses can't be able to withstand online due to very high competition and time-consuming SEO processes. This gives a hard time for new and small businesses in finding customers online.
On Oct 23, 2000, Google Ads became the first self-serve ad platform to support small & new businesses in finding new customers online competing with the businesses that occupied SERP organic results and large enterprises.
What Are Google Ads?
Google Ads is one of the oldest and most mature PPC advertising platforms globally which allows businesses to advertise across Google products including Search engine, Gmail, and YouTube. Also, Google-owned access to run ads on 2 million websites & apps. In 2023, Google display network sites reach over 90% of Internet users worldwide which is a massive size and opportunity for business trade worldwide.
Types of Google Ads Campaigns In 2023:-
In 2023, the Google ads platform has eight types of campaigns that include
Smart campaign

Search Campaign

Display Campaign

Video Campaign

Shopping Ads Campaign

App Installation Ads Campaign

Demand Generation Campaign

Performance Max Campaign
Smart Campaign:
Smart campaign is designed for new and small business owners who don't have much experience in advertising online and make it easy for them to start with. In the smart campaign, Google will take more control of targeting and ad placements. It uses machine learning and automation to target customers who may be interested in business products or services.
The key features of Google Smart ad campaign are
Easy Ad setup

Automated targeting

Ad creation

Budget optimization

Performance tracking
Disadvantages:
Limited Campaign Control

Limited targeting options

Limited ad format

Less control over bidding

Reliance on Google Ad Automation
Who can use Smart Campaign?
Small & new business owners who have less knowledge of the Google advertisement platform & businesses that don't have a budget to hire a Google ads expert or Google Ads agency can opt for smart campaigns.
Google Search Ad Campaign
Google search ad is one of the most effective and result-oriented campaigns that every business uses worldwide. As we know, Google handles 8.5 billion searches every day and holds 92.24% of the search engine global market, demonstrating that Google search is interconnected with our daily activities directly. From common people to high-level business professionals are using Google search to find information, purchase products, avail services, share experiences, and more.
Google search ads bring relevant website traffic generate highly qualified leads hold the record of a high conversion rate and are known as revenue-generating ad platforms.
Advantages of Google Search Ads:
Highly targeted reach than any other advertising platform

High visibility

Cost-effective compared with conversion rate

Highly measurable results

Customizable Ad formats

Enhanced brand visibility

Location targeting

Ad extensions to share more information

A/B testing
Disadvantage of Google Search Ads:
Burn marketing budget quick

High competition

Click fraud

Ad blindness

Ad blocking software

Limited character count

Constant monitoring and optimization

Dependence on algorithm changes
Who can use Google Search Ad Campaign?
If the business looking forward to driving more relevant and targeted traffic to a particular page of their website or custom landing page to get new bookings, appointments, leads, and sales use Google search ads. Google search ads a suggested to be handled by experts or renowned Google ads agencies to create and optimize campaigns for success.
Display Campaign:
Google display ads help to advertise on websites and mobile applications. As we mentioned above, Google display network sites reach over 90% of Internet users worldwide with interest, demographic, past search, and topics-based targeting. Google display advertising has various formats including text, image, video, and rich media ads. By using Google display ads, businesses can grow brands at the top of consumers' minds. Also, by targeting the right set of business audiences with multiple prospecting stages, businesses can generate qualified leads and increase sales.
Advantages of Google Display Ads:
Wide reach

Advanced targeting options

Multiple ad formats

Detailed performance tracking

Remarketing

Increase brand awareness

Cost-effective
Disadvantage of Google Display Ads:
Ad blindness

Limited control over ad placement

High competition

Limited targeting precision

Limited ad visibility on some websites

Ad blocking

Less intent on promotions
Who can use Google Display Ad Campaign?
Most Google display campaign is used by medium-sized business and enterprises to enhance their presence online, boost brand awareness, and online retail sales by D2C brands. To run a successful Google display ad campaign, creative thinking and ad copywriting skills are essential to pass the message to the target audience effectively. Google display ads should be created and monitored by experienced professionals due to the complexity of researching and finding the right target audience, ad placements, analyzing, optimizing, and monitoring.
Video Campaign
Google Video Ads allow businesses to run ads on 2nd world's largest search engine, YouTube. The ads will show up before, during, and after the videos on YouTube and also show up on the Google display network.
On YouTube, there are three types of ad formats. They are in-stream, in-search, and in-display.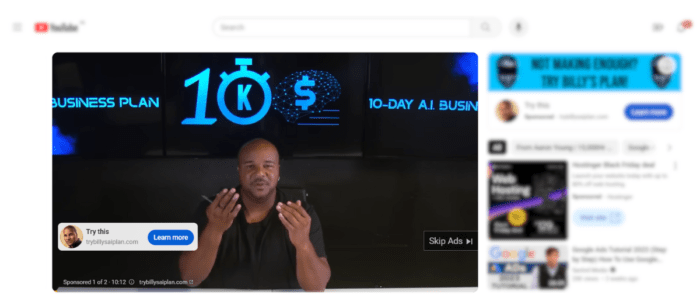 EX. of YouTube In-Stream Ads

EX. of YouTube In-Search Ads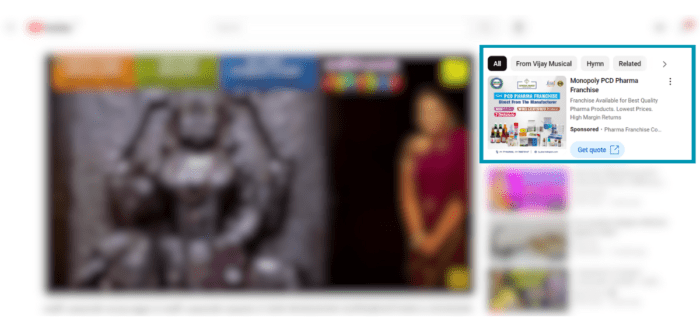 EX. of YouTube In-Display Ads
Advantages of Google Video Ads Campaign:-
Increased reach

Enhanced engagement

Targeted advertising

Multiple ad formats

Brand storytelling

Mobile reach

Create an Emotional connection with the Brand

A/B testing capabilities

Real-time insights
Disadvantages of Google Video Ads Campaign:-
Creating professional video cost a high

Ad blocking

Short attention spans

Ad avoidance

Ad length restrictions

Dependence on internet speed
Who can use Google Video Ad Campaign?
As an expert Google Ads Agency, we utilize Google video ads for clients' businesses that have clear goals and milestones. Video ads never sell directly until the business is well known and has trust and its customer base in the market. However, video ads a more effective and efficient in passing brand messages and emotional content to customers' hearts.
Shopping Ads Campaign
Shopping ads a exclusively made for businesses that sell products online. If you're a retailer, eCommerce business owner, or drop shipper, Google Shopping ads can add immense value to your marketing effort and drive more sales than any other ad format. The main advantage of shopping ads is they will show in Google searches with images for relevant search queries.
To begin with Google Shopping ads, businesses must create a Google Merchant Center account and a product feed, and then link both Google Ads and Merchant Center accounts.
Advantages of Google Shopping Ads:
Increased product visibility

Highly targeted

Rich product information

Higher conversion rates

Comprehensive performance insights like ROI

Dynamic remarketing capabilities

Option to showcase special offers and promotions directly in search results.
Disadvantages of Google Shopping Ads:
Costly bidding

Limited ad space and competition

Need continuous monitoring and optimization

Limited control over ad appearance

Dependence on product feed quality

Long ad approval process
Who can use Google Shopping Ads Campaign?
From small to large-scale global product sellers can utilize Google shopping ads to increase their sales. Also, Google ads always work based on the quality of the ad and engagement score rather than high bidding. This allows startups to compete with large-scale businesses like Amazon.
App Installation Ads Campaign
App installation ads (formerly known as Universal app campaigns or UAC) serve only for businesses that rely on mobile applications. The beauty of the Google Ads app automated campaign is it enables to drive of installation and conversion actions.
Advantages of Google App Installation Ads:
Increased app downloads than other ad platforms

Precise targeting

Performance tracking and analytics

Cost-Effective advertising

A/B testing capabilities
Disadvantages of Google App Installation Ads:
Ad blockers

Ad fatigue

App retention

Competitiveness
Who can use Google App Installation Ads Campaign?
If your business model relies on mobile applications, no matter whether you're a small or large enterprise, you have to adapt to use the Google App installation campaign efficiently. Also, hiring Google ads experts to run an app installation campaign is recommended to understand your business and its target audience precisely, to build an ad engagement strategy, and to optimize the cost that you spend per installation.
Demand Generation Campaign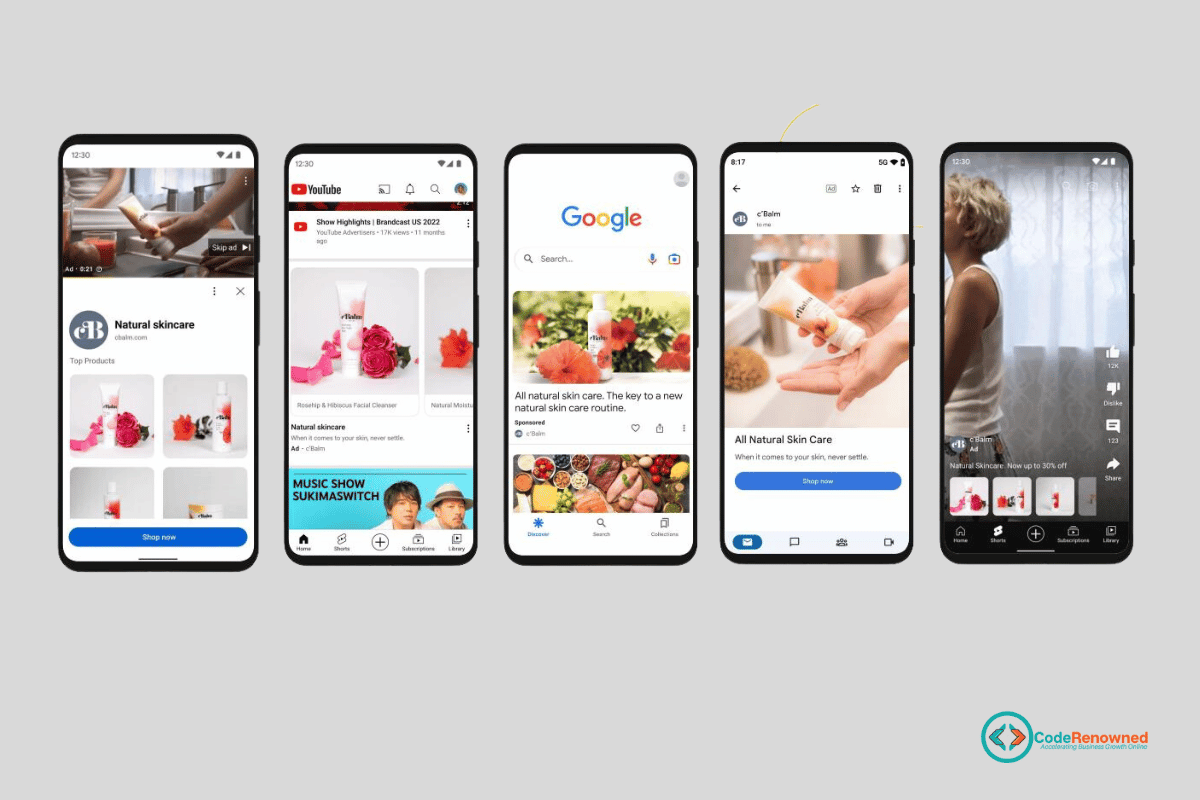 Google introduced its demand generation campaign in June 2023, an upgrade of Google discovery ads. The Google demand generation campaigns are designed to reach more new users and create interest by displaying high visual content that engages. Google demand generation ads show ads access Gmail promotional tab, Google discovery feed, and YouTube.
Advantages of Google Demand Generation Campaign:
Increased brand visibility

Precious targeting

Measurable results

Customizable campaigns

Remarketing opportunities

Adaptability to various ad formats
Disadvantages of Google Demand Generation Campaign:
Ad fatigue

Ad blockers

Click fraud

Difficulty in maintaining campaign performance consistently

Risk of bidding wars
Who can use the Google Demand Generation Ads Campaign?
Google demand generation ads can be used by a business that looks for awareness for brand, products, or services. Also, a demand generation campaign offers smart bidding with maximized clicks as a bid strategy.
Demand generation campaigns suit businesses that look to reach a more targeted audience to build awareness and create demand for their products/services with various high-engagement ad formats.
Performance Max Campaign
Performance max campaign is built to adopt automation by using Google machine learning to optimize bidding and ad placements to drive conversion for your business. In the performance max campaign, Google will automate creating ads based on given assets. Also, the performance max campaign covers all ad formats to increase visibility across the web and drive the best results. The types of ad formats are
Search

Shopping

Display

Gmail

Youtube

Local Search (Google Maps)
Advantages of Google Performance Max Campaign:
Cross-network optimization

Automated bidding and targeting

Multiple ad formats

Enhanced reach and visibility

Auto optimization for conversions

Improved performance insights
Disadvantages of Google Performance Max Campaign:
Limited control over individual ad placements

Highly relies on machine learning algorithms

Difficulty in optimizing for specific campaign goals

Limited customization options

Increased costs

Lack of transparency in optimization processes
Who can use the Google Performance Max Campaign?
If your target marketing is niche, performance max campaign may not be the right campaign type for your business. If your business has a wider audience and generates leads using a marketing funnel, a performance max campaign can add massive value by driving more relevant traffic.
Google Ads Cost:-
The advertising cost in Google Ads depends on various factors, such as the target country, competition, ad quality of your campaign, account structure and history, and more. In the USA, the average cost per click is $2.40, while in some countries, it is higher or lower.
Google Ads Campaign Bidding Methods:-
Cost-Per-Click (CPC)

Cost-Per-Thousand-Impressions (CPM)

Cost-Per-Acquisition (CPA)

Cost-Per-View (CPV)
Conclusion:-
We're living in an era where technology has penetrated deep into our lives and habits. So, a strong Google presence is crucial for any type of business ranging from small local store businesses to large enterprises for sustainable revenue and growth. Using Google ads, businesses can benefit by creating an online presence in no time where SEO takes years to show up.
If you're a business owner and looking to know more about Google ads and their benefits, drop a message to our team at info@coderenowned.com. We will get in touch with you for a free open talk and share more personalized details about the Google Ads platform and how can be utilized for your business efficiently.