Innovative Web Design Company In San Jose
Catering Business Website With Custom Features as Per Your Requirements.
CodeRenowned - Best Website Development And
Web Design Company In San Jose
A "good" website is insufficient. You need an experienced design team that knows how to attract consumers' attention and convert them from shoppers to brand evangelists.
CodeRenowned provides the best website development services in San Jose, California. Our custom-designed websites are noted for their quick responsiveness and usage of the best programming in development. As a top-rated Web designing company in San Jose, We design and develop websites using popular languages, including HTML 5, CSS3, PHP, React JS, Angular JS, Python, React Native, and others. We have an in-house team of specialists who analyze, plan, design and construct websites for our client's business as per requirements.
Creativity has no limitation in CodeRenowned. In this fast-paced digital era, every move has a reaction. In general, businesses have transitioned from having a strong offline presence to having a strong online presence. We create a website more interactive with customized designs and needs based on the client's base/expectations.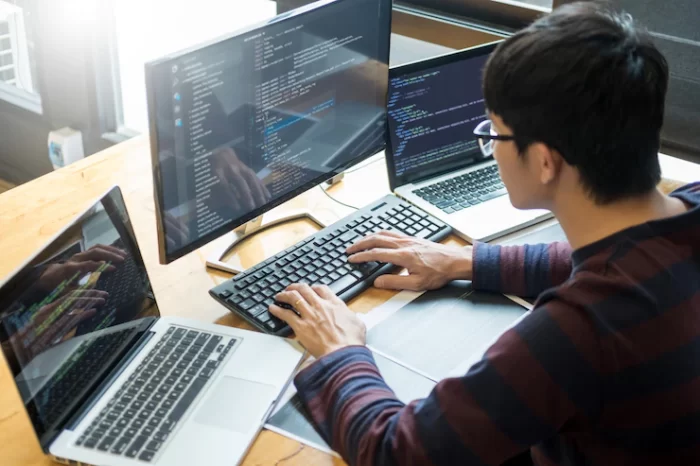 CodeRenowned is the web designing team you've been looking for, with
experience in having built several custom business websites.
Creative Website Design In San Jose, California - Let's Get Started
Do you want to construct your product with a team that follows a defined design process, sticks to deadlines, and produces high-quality results? Consider using CodeRenowned's UI and UX services. Our design team is a design studionthat will assist you in rapidly and simply creating an interesting product.
We provides a wide range of website design and development services, from mobile web development solutions and responsive website designs to custom e-commerce and intranet experiences built with cutting-edge web technologies.
Custom Website Development
Mobile Application Development
The process of developing application software for low-power portable devices such as personal iPhones or mobile phones is known as mobile application development. These programmes may be downloaded via the web and installed on mobile devices.
CodeRenowned is the Best Mobile Application Development Company in San Jose, California, and we have designed and developed several unique mobile applications for various industries.
Web application development is widely used in today's industries all around the world. To tackle corporate difficulties, we develop B2B and B2C compatible web apps. Our experts will design web apps to your specifications, from single-page applications to bespoke sophisticated web applications. Owning a web application may help you alter your business. We provide complete development assistance for your web application.
Web Application Development
ECommerce Web Development
The key to winning the e-commerce game is to have an online presence that meets your audience's expectations. It also necessitates eCommerce website building skills that are laser-focused on UX.
With a team that knows all there is to know about e-commerce. We not only assist businesses in developing e-commerce systems that provide a solid basis, but we also guarantee that they evolve smoothly.
We provide a comprehensive variety of Internet Marketing Services in San Jose, California. and throughout the world. Search Engine Optimization, Search Engine Marketing, Social Media Optimization, Link Building, and Digital Internet Advertising are all areas of expertise for our Internet Marketing professionals. We provide all of our clients low-cost web marketing services.
Search Engine
Optimization
Our SEO Experts strive for good outcomes and long-term success for our clients by utilising efficient and effective Search Engine Optimization strategies. We provide a high degree of professionalism and knowledge to ensure that your company's website is positioned on the first page for the keywords that are important to your business.
We have effectively helped businesses strengthen and develop through our results-driven Google my business optimization strategy and inventive methods. Whether you are looking for project-based help or a long-term solution, we welcome you to contact us to determine whether we are a suitable fit for your firm.
Google My Business Optimization
The tides of digital marketing are changing, and many businesses are seeking for quick and effective strategies to put their brands in front of high-converting customers. With CodeRenowned's PPC management services, you can increase your search engine presence and achieve quick results.
According to statistics, 10 out of every 8 people use social media, thus you've selected the appropriate medium to market your brand. We build and manage your social media campaigns on a regular basis, as well as track their effectiveness. Our highly skilled social media professionals can guide you to the most effective marketing options.
Industries - We're Experts In Crafting
Why Choose CodeRenowned As Your Website Design and
Development Partner In San Jose, California?
As a leading website development company, we encouraging innovation and exact quality to achieve increased customer satisfaction through a demanding work environment in partnership of people and technology resources. At CodeRenowned, we are dedicated to providing our clients with high-quality products that will assist them in succeeding in a continuously changing and tough business world. Our essential business ideals derive from the realisation that our success is inextricably linked to the success of our clients. CodeRenowned is a one-stop solution for website Development Company in San Jose, California.
CodeRenowned Website Design And Development Process